Disclosure: As an Amazon Associate TelescopeFinder earn from qualifying purchases.
---
You are on your stargazing adventure and you suddenly dropped your filter.
You can't use the mobile flashlight and risk losing your night sight, but you also need your filter to continue skywatching.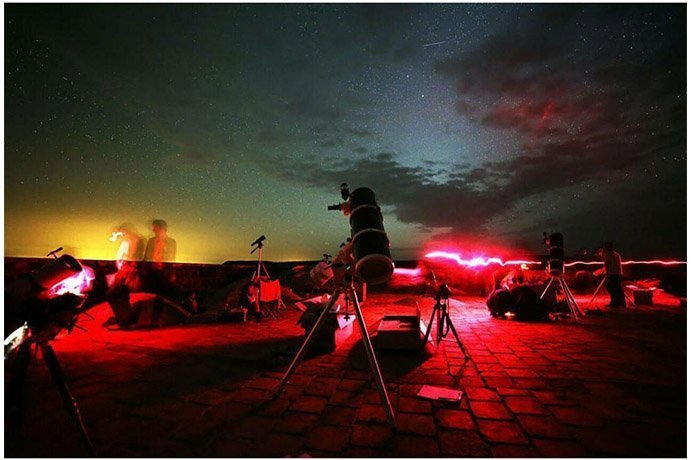 A red flashlight is an essential accessory that every astronomer should have in their kit.
These astronomy grade red flashlights are used by experienced stargazers for navigating in the dark, reading the planisphere, and making minor adjustments on the telescope.
They allow you to perform these tasks without disturbing your dark-adapted eyes.
After comparing all the available options in the market, we found Celestron Powertank Glow is the right option for most people.
With that said, everyone's needs are different and this is not the one size fits all option.
We have handpicked some of the best Red flashlights for astronomy that will protect your night vision while allowing you to do anything you want.
Why use Red flashlights?
In order to see faint stars, our eyes needs to be dark-adapted. Using a normal white flashlight during observations can mess up your night sight.
Using a Red Flashlight (instead of the normal white one) preserves your night vision.
Check out – Role of Red flashlight in the dark adaptation of eyes
Best Red flashlight for Astronomy
Red astronomy lights come in all shapes and forms. You will see everything from small handheld flashlights to head-mounted red headlamps, some astronomers even likes to use heavy duty Red lanterns.
No matter what your needs are, we got you covered. Here are some of the best astronomy lights available in the market.
To help you further, we have included a handy buyers guide at the end.
1. Celestron PowerTank Glow 5000- Feature-packed Astronomy flashlight
Dimension – 6.4 x 4.05 x 2.35 inches
Weight – 6.4 ounces (181 grams)
Battery – Rechargeable
This is one of the newer models of flashlights introduced by Celestron. Celestron Powertank Glow 5000 is specifically made for astronomers and comes with a number of features that you will very much appreciate.
Starting with the LED light itself, it has three levels of brightness which ranges from adequately dim to really bright.
These lights are powered by a massive 5000 mAh rechargeable battery which lasts a really long time.
This massive battery can also be used for charging other devices such as your smartphone, GPS, satellite communicator, or anything that takes 5v DC power.
There is a handy battery indicator located right on top of the on/off button so that you know exactly how much juice is left.
For convenience, the Celestron Powertank comes with a wrist strap and mounts to attach the flashlight to the tripod legs of the telescope.
Overall, this multipurpose flashlight is packed with features and definitely one of the best options for those considering a quality Astro flashlight.
PROs – What we liked
3 Brightness levels
Rechargeable 5000 mAh Battery
Multipurpose (can charge other electronic devices – 5V DC)
Battery indicator
Great build quality
Reasonable price
CONs – What needs improvement
Slightly heavy
Thicker than expected
Buy Celestron Powertank Glow on Amazon →
2. Weltool M7-RD Red – Compact, powerful, premium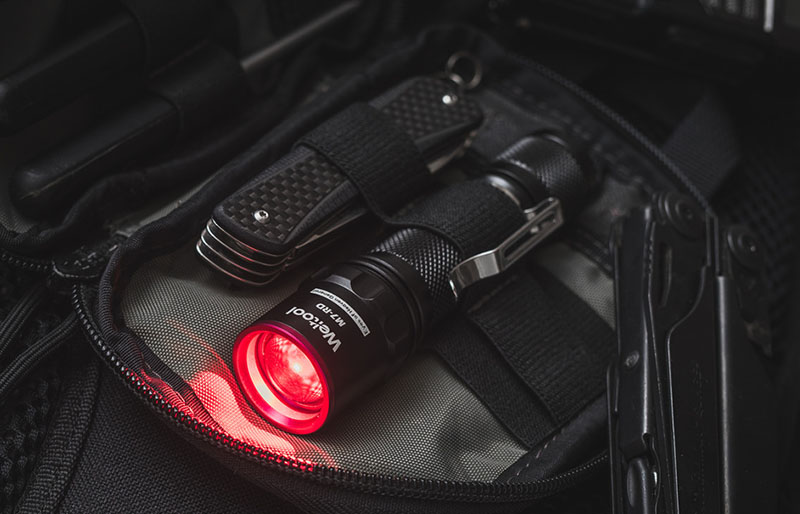 Dimension – 6.42 x 3.54 x 1.97 inches
Weight – 6.3 ounces (178 grams)
Battery – Rechargeable, removable battery
If you are someone who often goes on stargazing adventures, a normal run of the mill flashlight isn't gonna cut it for you.
The Weltool M7-RD Red is one of the most premium red astronomy flashlights in the market.
What is so special about this? – The answer is, it gets the basics right.
Starting with the light, it produces a refined light of 635nm which ensures your dark sight remains intact no matter how long and at what brightness you use the light for.
Its throw is also on point, it uses a high special lens with an exceptional light transmission that produces dark-spot or glare-free even light.
Measuring just 4.72 inches it is really compact but still produces a powerful beam of light.
The metallic body features a unibody design that can easily take on some serious beating.
On the tech side, it has features such as low-voltage warning, reverse polarity protection, and over-discharge protection.
Probably the best feature, it comes with a 2600mAh rechargeable and removable battery. Meaning you can carry a spare battery – if you plan to use it for long hours.
PROs – What we liked
635 nm even diffused Red light (Easy on eyes)
Low and high brightness modes
Dark spot and glare-free even light
High-quality lens with exceptional light transmission
Compact and lightweight
Rugged and shockproof Unibody construction
low-voltage warning, reverse polarity protection, and over-discharge protection
Pocket clip
CONs – What needs improvement
Expensive
Does not come with a charger (can be charged with a mobile charger)
Buy Weltool M7-RD Red on Amazon →
3. Orion RedBeam motion-sensing Astro headlamp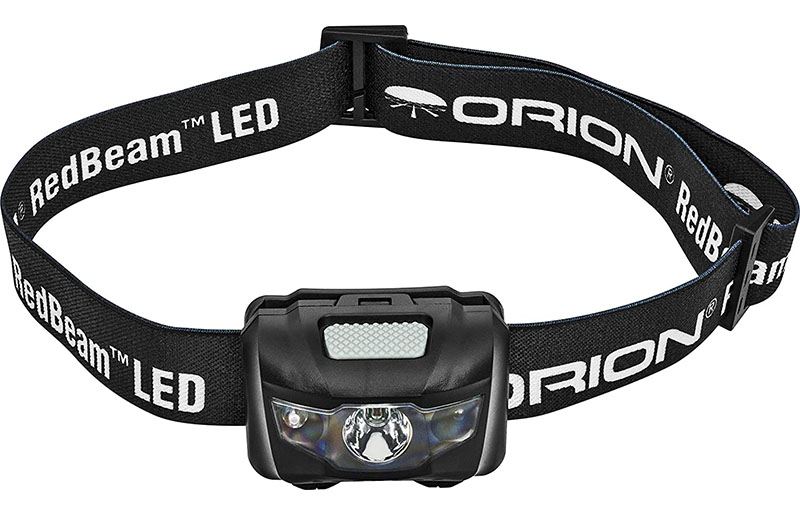 Dimension – 1.2 x 1.25 x 2.4 inches
Weight – 1.6 ounces (45 grams)
Battery – 3 AAA, replaceable battery
Handheld flashlights can be a little annoying to use, especially when you are making finer adjustments on your telescope or going through your bag looking for something, or anything in general that requires using your both hands.
A head-mounted red light like Orion Redbeam is a more practical alternative to the handheld flashlights.
It keeps your hand free to do important stuff while providing a constant beam of light at the right spot.
It has 4 levels of brightness settings and works on removable AAA batteries.
To make the user experience more fluid the headlamp uses a motion sensor to turn on/off the light, without needing to press a button.
Simply wave your hand around four inches away from the light and you will be able to control it. The sensor is focused to 4 inches which means the light will not get triggered by mistake.
Talking of comfort, the headlamp is very lightweight, and combined with a high-quality rubber headband – it is comfortable to wear for longer durations.
Overall, the Orion RedBeam is well throughout and a well-executed headlamp, that will give you a comfortable hands-free experience.
PROs – What we liked
4 Brightness levels (5%, 10%, 50%, 100% illumination)
Does not get hot and uncomfortable
Very lightweight and handy
Comfortable elastic headband
Easy to replace batteries
CONs – What needs improvement
Uses replaceable AAA battery instead of rechargeable lithium batteries
Buy Orion Redbeam Astro Headlamp on Amazon →
4. One mode Red – Cheapest red flashlight (value for money)
Dimension – 4.4 x 2.2 x 1 inches
Weight – 2.4 ounces (68 grams)
Battery – AA battery, Removable
It is said quality always comes at a price. But there are some products whose performance exceeds far beyond their price tag.
The "One mode red flashlight" is probably one of the cheapest flashlights that you can find but it has proved itself as a go-to option for anyone looking for a powerful and handy red flashlight.
The effective visible range of the light is about 150 yards (140 meters).
The cool thing is, it comes with a zooming capability where you can rotate the head to focus the light on distant objects, or you can rotate the other way for a diffused light that gives a wider spread.
The overall size of the flashlight is very compact and it uses a single AA battery.
PROs – What we liked
Excellent value for money
Powerful beam
Square or circular beam switch mode
zoom in and out
150 yards (140 meters) usable throw
Compact
Uses AA battery
Single-mode (on/off)
Metallic body
CONs – What needs improvement
Buy One Mode Red Flashlight on Amazon →
5. Celestron Astro Night vision Flashlight (dark adaption)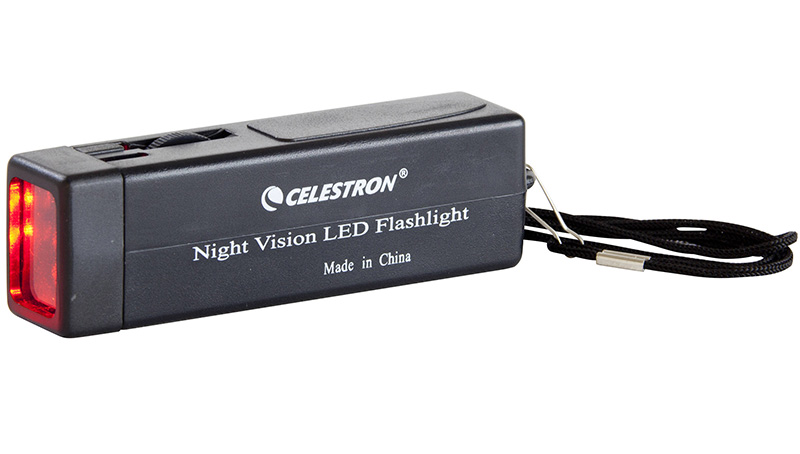 Dimension – 5.7 x 2.6 x 2.4 inches
Weight – 4 ounces (113 grams)
Battery – 10 V battery, removable, non-rechargeable
The Celestron Astro flashlight is another great alternative. It is fairly compact in size and comes with two LEDs. It uses a single 9-volt battery which is included in the package.
One of the great things about this light is there is a circular dial at the top of the flashlight which allows you to change the brightness.
The rollable dial allows you to adjust the brightness exactly at the level you want.
Now one of the shortcomings of this flashlight is due to the two LEDs the light is not evenly spread out. But on the flip side, it is bright enough that you will often find yourself reducing the brightness to comfortably read the star charts.
PROs – What we liked
Dual LED
High power light
Rollable dial for exact brightness control
Small footprint
Square shape keeps it from rolling away
CONs – What needs improvement
Clunky battery changing mechanism
Uneven light distribution
Buy Celestron Astro flashlight on Amazon →
6. Orion DualBeam Astro Lantern
Dimension – 5.7 x 1.2 x 1.2 inches
Weight – 5 ounces (142 grams)
Battery – 2600 mAh rechargeable, non-removable
While flashlights are good for quick and handy tasks but what if you want a constant beam of light throughout your observation period.
An Astro lantern is a popular choice amongst astronomers especially for those with medium to large telescope setup.
The Orion DualBeam is one of the simplest and most popular Astro lanterns out there.
It comes with 4 brightness settings and can go from very dim to really bright. It works on a rechargeable 2600mAh battery.
It has a USB port at the bottom which can be used to charge other devices such as a smartphone.
the Astro lantern can output two colors of light Red for the astronomy session and White for non-astronomy usage which makes it a very versatile tool.
It is a compact and waterproof red lamp that is the perfect choice for any outdoor usage.
PROs – What we liked
Larger 2600 mAh battery (great battery backup)
Rechargeable battery with reverse charging (can charge other devices)
Multiple luminance settings
Red and white light for astronomy and non-astronomy usage
Long press to shut off (don't have to cycle through to all light modes)
Compact and lightweight
Carry strap and clip
Magnetic mounting legs for attaching to metallic objects
CONs – What needs improvement
5 hours of charging time (can surely be improved)
Flashing blue light should have been red (used for battery indicator)
Cylindrical light can easily roll around
Buy Orion DualBeam on Amazon →
7. Streamlight Siege Compact Lantern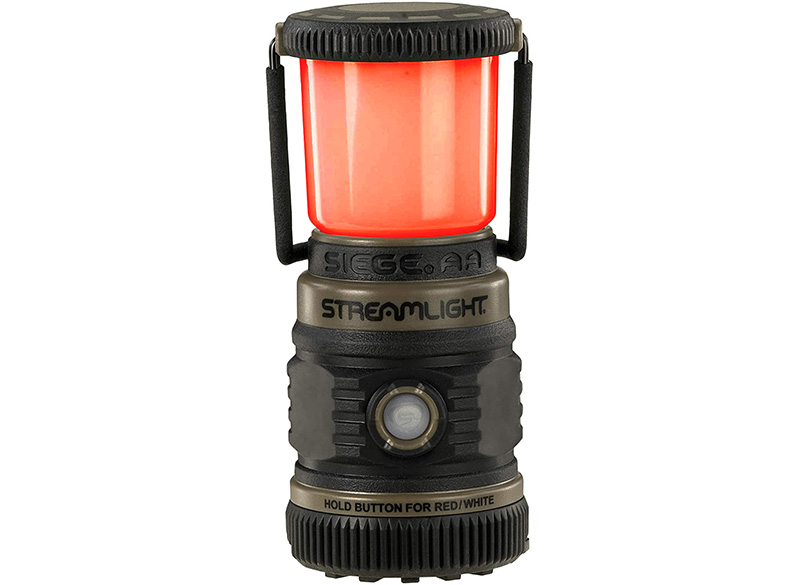 Dimension – 4 x 4 x 7.25 inches
Weight – 15.2 ounces (430 grams)
Battery – Three "D cell", removable, non-rechargeable
If you are done with all these handy dandy compact devices and want something big and powerful that gets the job done without any of those compromises that come with a compact design, this one is the right choice for you.
The Streamlight Siege Compact Lantern is a very powerful beast of a lamp that is fully packed with features and has an extremely long runtime.
The lantern comes in two lighting modes, simply long-press the power button for the red light mode.
In the Red light mode, the lamp gives you an insane 200+ hours of runtime.
To power this beast you need three "D cell" alkaline batteries.
There are a lot of convenience features built right into the lamp.
The Streamlight Siege has an incorporated D-ring at the top and bottom to hang it in either inverted or upright position.
Plus it is shock resistant and waterproof, in fact, it can float in water in an upright position.
The cover on top can be removed for the lamp to cover a larger area. Or it can be put the cover back on for a soothing soft (diffused) light in a small area.
In spite of what the name says, the Streamlight Siege has the largest physical size on our list.
Overall, Streamlight Siege is a true outdoor companion that is perfect for your astronomy basecamp or star party.
PROs – What we liked
Reasonable price
White light (High, medium, and low brightness) and red light with SOS functionality
Uses three "D cell" alkaline batteries (non-rechargeable)
The battery status indicator on the power button
Can run over 200 hours in Red light mode
Can be hung in either inverted or upright position.
Removable light cover
IPX7 waterproof to 1m submersions plus it floats in water upright
2m impact resistance
CONs – What needs improvement
Larger footprint
Heavy
Uses non-rechargeable battery
Buy StreamLight Siege Compact on Amazon →
8. Orion Redbeam Mini – Tiny RED Astronomy flashlight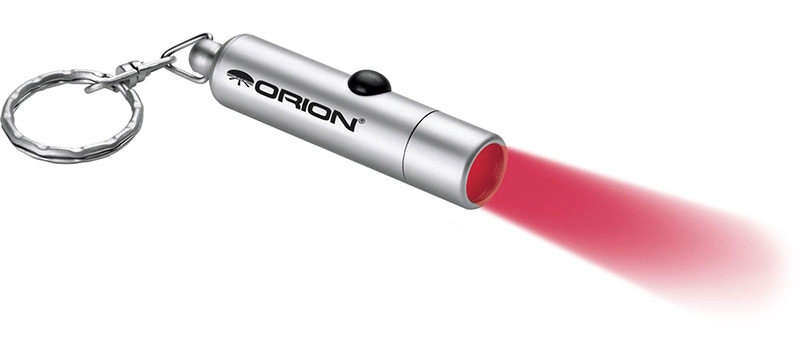 Dimension – 2.5 inches long
Weight – 1.6 ounces (45 grams)
Battery – Three Button cells, removable, non-rechargeable
The Red Beam Mini is one of the simplest flashlight made by Orion. It is also one of the smallest flashlights, so small that it can attach to a keyring. The red beam flashlight is very much comparable to a pocket laser pointer.
It works on 3 "button cells" and has a single red LED light inside. The flashlight is constructed out of aluminum and has a single on/off button on the side with no brightness control.
The flashlight is made for astronomy so the light emitted by the flashlight is faint. It is perfect for reading notes or planisphere but not for navigating in the dark.
PROs – What we liked
Lightest Flashlight
Quality metallic construction
Comes with battery
Can be attached to a keyring
Comes with keyring
CONs – What needs improvement
Limited power and brightness
Buy Orion Redbeam Mini on Amazon →
9. Red Gel filter – The cheap and DIY technique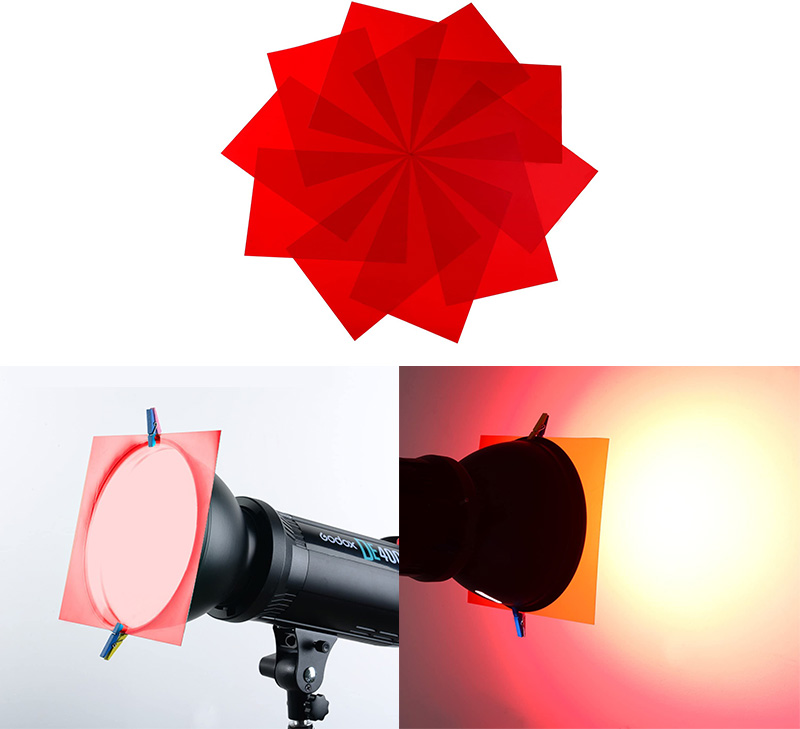 Dimension – 11.7 x 8.3 inches
Weight – N/A
Battery – N/A, Get some extra battery from the money you saved
The astronomy flashlight is nothing but a flashlight that produces a red light instead of a normal white light.
If you already own a compact flashlight, there is no reason to get a separate Red flashlight.
Simply get these handy Red gel filters, attach them over your old flashlight (using some transparent tape, clip or rubber bands), and "wallah…" you got a Red flashlight.
It will filter out all the other wavelengths from the white light and only allow the red light to pass through, this is exactly what we want.
In case you want to adjust the brightness simply put more than one layer of the gel filter until you get the perfect brightness.
The downside of using a red filter is There could be a leakage or the filter can easily come off while you are in the middle of stargazing.
In addition to that, a filter cannot really stop all wavelengths of light. White light may still pass through which can be sufficient to ruin your night vision.
Buy Red gel filter on Amazon →
Buyers guide – Specs to consider when buying a red flashlight for astronomy
Here are some of the points to consider before buying a red flashlight for astronomy.
Type of flashlight
The handheld Red flashlight is one of the most common types of Astro flashlight. If you want a fully feature packed torch – the "Celestron Powertank Glow" is the best choice.
Alternatively, a simple entry-level flashlight such as "One Mode Red" can also work just fine.
A head-mounted Red flashlight is also a great choice as they keep your hands free and automatically points to where you are looking. In this category, the "Orion Redbeam Headlamp" is the best option out there.
Brightness
Brightness is a very important feature and most of the flashlights mentioned in our list come with some level of brightness settings.
Flashlight at high brightness can be used for trekking or working in the dark or just to make sure you have set up at the right spot.
At medium brightness, you can read star maps and take notes and at low brightness, you can make finer adjustments on your telescope.
As a general rule of thumb, for maintaining a good night sight, try to staw away with bright Light – even if it is red.
Battery
Astro Flashlight or any flashlight for that matter comes with two types of batteries – rechargeable and non-rechargeable. Out of two, a flashlight with a rechargeable battery is a better option as you don't need to buy more and more disposable batteries.
You also have to take into account whether the batteries are removable or they are fixed.
A few red flashlights in the list come with a non-removable battery, which is fine but a flashlight with a removable rechargeable battery such as "Weltool M7-RD Red" gives you the option to carry spare batteries for longer skywatching sessions or in the case of emergency.
Red flashlight or normal flashlight with Red mode?
People often ask, instead of getting a flashlight that only displays red light, why not get a white light that has a Red light mode.
That answer is, while using these flashlights there is always the risk of white light getting triggered at the wrong times, messing up your night sight.
That is why it is advisable to get the flashlight with only Red light mode.
Size and compactness
In general, compact Red telescopes are better as they are lightweight and easy to carry. But you also need to consider that in pursuit of compactness, these small flashlight compromise with battery life, power as well as features.
A medium-size flashlight such as "Celestron Powertank Glow" that is neither too small and limited nor too bulky, could be the right option. That is why we have called this the best flashlight for most people.
Build Quality
Flashlights are outdoor tools that are susceptible to falls, and damages. A quality and rugged flashlight can easily take a beating, you may drop them and they will still work, you may forget them in rain and they will handle that as well.
That is why you should always look for a flashlight with good built quality, rugged and functional design, and water resistance.
The "Weltool M7-RD Red" is a great example of a rough and touch flashlight. The "Streamlight Siege Compact" is another good example of Red astronomy lantern that comes with features such as waterproof and shock resistance.
References:
Dark Adaptation Following Light Adaptation to Red and White Lights
Intra-retinal visual cycle required for rapid and complete cone dark adaptation